Notes for Writers for Feb. 21, 2020
The best writing advice, tweets, and gigs of the week
Hi Writer,
Do people ask you how things are going with your writing? It's been a month of full-time freelancing and it seems every friend and contact asks me how it's going. Authors probably get asked how their book is coming along. And poets probably wish someone asked about their poetry.
What do you say? After all, success is subjective. A New York Times best-selling author can still be filled with doubt and insecurity. And it's a law of nature that a freelance writer will never think they're earning enough money.
That's why this week's GIF is inspired by how I respond to the question, "How's it going?" What do you say when you're asked about your writing?
Thanks for reading,
Nick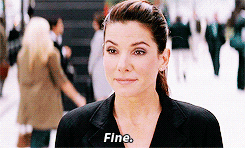 Know another writer? Show them you care by sending them Notes for Writers.
New This Week
Most of my writing's been on client work (see above, "Fine GIF"), but I did publish a review of Rebecca Makkai's The Great Believers.
Tweet of the Week
Write your thing, leave some teeth in your pastry. Craft improves, boldness you have to carry with you like a suitcase and defend against the many who say it's a liability. Yes, I am mixing metaphors. Bite me. 6/
Great writing advice thread ☝️
For All Writers
For Authors
And Bloggers
For Freelancers
Here's one of my best freelance writing tips: ALWAYS sleep between writing a draft and sending it to the client. It's easy to miss spelling mistakes & things that don't make sense when you're *in* it. Take a break & come back to proof it again with fresh eyes before sending ✅
Writing Gigs
Calls and Contests
Bolded items are new additions. Non-bolded items are repeats. 👍
One for the Road
If you write 10k a day, you will end up with a book. If you write 1k a day, you will end up with a book. If you write 500 words every Tuesday, you will end up with a book. If you write 100 words before bed, or 50 whenever you can, you will end up with a book.
---